Essex Kings Head pub owners 'watching Ryder Cup' when fire started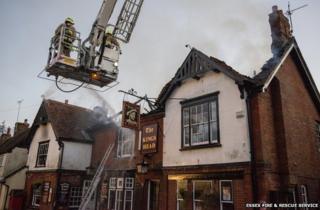 A fire that destroyed an Essex pub took hold while its owners were watching the Ryder Cup, investigators have said.
Essex County Fire and Rescue Service said the fire at the Kings Head in Bradwell-on-Sea was accidental.
It was sparked by a chip pan left unattended ahead of evening service, when the pub's owners "went up to watch the golf".
No-one was injured in the fire, which started at about 17:30 BST on Friday.
The cause of the blaze was originally thought to be suspicious.
Divisional officer Lee Lucas, who headed the investigation, said there were lessons to be learned.
"It appears the owners of the pub were preparing for evening service. They cleaned out the industrial chip pan, refilled it and then went up to watch the golf, propping open a fire door," he said.
"All these things added up - the distraction, leaving cooking unattended and finally the importance of closed doors to prevent fire spread."