Laughlin Whiteley: Celebration for cancer blog boy's life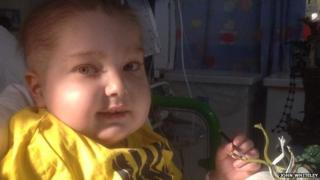 The life of an "inspirational", award-winning, seven-year-old boy who died from cancer has been celebrated by a town in Essex.
Laughlin Whiteley, of Burnham-on-Crouch, who recently received an award from Prince Harry, died last Saturday.
Event organisers said nearly 1,000 people from the local community took part in the event on Saturday evening.
Sunflowers were placed on the sea wall in his memory and more than £2,200 was raised.
Laughlin's illness was charted by his father online after he was found to have a brain tumour, aged four.
In February, Lockey, as he was known, had a stem cell transplant for a rare leukaemia and was given the all-clear, but suffered a relapse of the blood cancer.
"Lockey's death has touched everybody," said Michelle Richardson, from the Unlock a Life for Lockey campaign.
"We live in a very close knit community and this was a chance for everybody to celebrate his life. We held it exactly a week to the time when he died.
"Nearly 1,000 people turned up and it was absolutely overwhelming to see the community coming together."
The money raised will be donated to Laughlin's parents, John and Andrea, who will decide how to use it at a later date.
Last month, national charity for sick children WellChild named Laughlin as its Most Inspirational Child of the Year after receiving hundreds of nominations for the title.
Its patron, Prince Harry, gave Lockey his award at a London hotel.
Laughlin's parents set up a charity earlier this year to distribute craft boxes to children at Great Ormond Street Hospital, where he was being treated.
A farewell procession for Laughlin will take place next Saturday along Burnham-on-Crouch High Street from the Clocktower at 10:30 BST, before a private funeral.