Colchester Hospital postpones ops over 'major incident'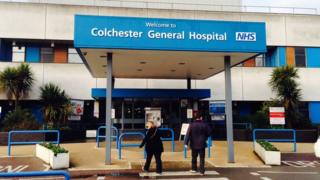 A hospital whose A&E department is struggling to cope has cancelled 10 times as many non-emergency operations as normal, the BBC has learned.
Colchester Hospital declared a "major incident" after Care Quality Commission (CQC) inspectors said the department was facing "unprecedented demand".
Measures are being put in place to alleviate pressure on services.
Over three days, 29 elective operations had been postponed "as a very last resort", a hospital spokesman said.
Government data shows, on average, the hospital usually cancels one such operation each working day.
The ongoing "major incident" is likely to last a week.
Patients are being told to avoid going to A&E unless they have a "serious or life-threatening condition".
A spokesman for North East Essex Clinical Commissioning Group said Colchester's walk-in centre reported a "particularly busy" weekend as a result of the advice.
A minor injuries unit also saw a slight increase in numbers, he said.
Patients undergoing elective procedures would normally spend at least one night in hospital.
The number of scheduled non-emergency operations has not yet been confirmed by the hospital trust.
Dr Lucy Moore, the hospital's interim chief executive, said the focus was on discharging patients.
"By declaring a major incident and running a sort of command and control process, we ask all our staff to prioritise that," she told BBC Essex.
What is a Major Incident?
The Department of Health says: "For the NHS, a major incident is defined as:
"Any occurrence that presents serious threat to the health of the community, disruption to the service or causes (or is likely to cause) such numbers or types of casualties as to require special arrangements to be implemented by hospitals, ambulance trusts or primary care organisations."
Each individual NHS organisation must plan to handle incidents in which its own facilities "may be overwhelmed".
Examples of such incidents include serious fire, breakdown of utilities, equipment failure, hospital-acquired infections, violent crime and dealing with contaminated individuals.
The trust's spokesman said operations were being postponed "as a very last resort" and apologised to all those affected.
The patients whose operations have been cancelled have been offered an alternative date within 28 days, he added.
He said surgery carried out on a "day case basis" was continuing as normal and the trust did not know how many more operations it would have to postpone in the coming days.
Between July and September this year, the hospital cancelled 54 last-minute elective operations - including day cases - for non-clinical reasons, according to Department of Health data.
That equates to about one operation per working day.