Colchester Hospital: Failings should face 'air accident' probe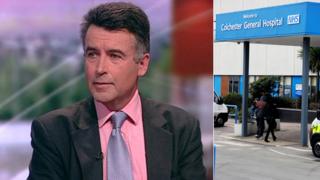 Hospital failings should be scrutinised by a body similar to the one which investigates air accidents, an MP has said.
Bernard Jenkin made the suggestion after a review found evidence of "serious managerial failures" at Colchester Hospital.
Managers were cleared of bullying and deliberately manipulating cancer waiting time data.
But Mr Jenkin said staff needed "a safe space" to talk about failings.
Mr Jenkin, Conservative MP for Harwich and North Essex, said: "In other industries, they have this capacity. In aviation, there's the Air Accident Investigations Branch at the Department for Transport.
"There hasn't been a public inquiry, or a call for a public inquiry into an air accident, since 1972, over 40 years ago.
"The reason is, everyone has complete confidence in the system. Pilots themselves will go and say 'I think I made a mistake, it should be investigated'."
Interim chief executive of Colchester Hospital University NHS Foundation Trust Dr Lucy Moore said she was determined the hospital would have a "more open, transparent, engaging culture".
She told the BBC the future of cancer services manager Rachael West would be discussed now she had been cleared of bullying and deliberately manipulating data.
Ms West was suspended in November 2013 and has been on full pay while the inquiries were conducted.
'Without fear'
Mr Jenkin is chairman of the Public Administration Committee, which has launched an inquiry into how clinical incidents are investigated.
He said, at present, there was a "complete lack of capacity for when something goes wrong, to establish the facts of the case early and immediately".
"Very often, a nurse, a manager, a surgeon knows something has gone wrong, and they should be able to go to a safe space and talk about that without fear of being blamed, or prosecuted, or sued," he said.
"What we want is a system where people can talk about what goes wrong and then things can be put right."