G4S driver Raymond Boland 'in on plot to steal £800k'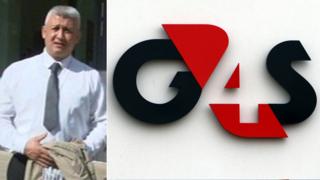 A security van driver accused of stealing more than £800,000 from the company he worked for was "in on the plot", a court has heard.
Former G4S employee Raymond Boland, 40, of Gurney Close, Barking, denies theft and claims he was forced to hand over money to thieves on 3 January 2012.
Mr Boland claims he was taken hostage and his children's lives threatened.
But the prosecution said his account was "inconsistent, implausible, and showed the threat claim to be a sham."
Christopher Paxton told the jury of six men and six women that Mr Boland, who was based at Harlow, had not indicated at any stage he was under threat or acting under duress as he claimed.
Gun to head
The court heard Mr Boland had made several deliveries and collections on the day of the theft, but the prosecution said he did not make a scheduled drop-off at a branch of HSBC in Hertford.
"By not going to HSBC, those involved in the plan would be £157,500 better off," Mr Paxton told the court.
The court was played recordings of telephone conversations Mr Boland had with G4S' national control centre and then police.
During the recordings, he claimed two men had taken him hostage the night before and threatened to harm his children if he did not comply with their instructions and give them the money.
"They strapped me down on the table and held a gun to my head," he told police.
The trial continues.