Essex woman Carol Cook discovers scorpion over breakfast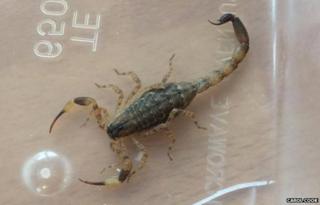 A potentially dangerous scorpion was discovered in a woman's kitchen shortly after she opened a packet of cereal.
Carol Cook screamed in shock when she spotted the creature scuttling across the floor of her home in Stansted, Essex.
Her husband Gary managed to capture the animal in a plastic container.
Iain Newby, who runs Dangerous Wild Animal Rescue Facility, in Great Wakering, Essex, said it "could be something quite venomous".
He added: "It might have been in the cardboard packaging during shipping, or in the factory, or it could have come from somewhere completely different."
Scorpion facts:
They were among the first animals to adapt to life on land 420 million years ago
The famous stinging tail contains a pair of poison glands and is used to paralyse prey
About 2,000 species have been described in 13 families with species found on every continent except Antarctica
Only about 25 of these species are known to have venom capable of killing humans
Mrs Cook said she wanted to find out more information about the scorpion and how dangerous it might be.
She said her daughter had recently returned from Spain and was considering the possibility the scorpion had come from overseas.
She has contacted Environmental Health and an animal welfare charity to see if they can identify its breed or find it a new home.
Scorpions are particularly recognisable by their large, powerful pincers, which are enlarged appendages used to grasp and subdue prey.
The infamous stinging tail contains a pair of poison glands and is used to paralyse prey.