Cruise ship Marco Polo: James Swinstead death 'accidental'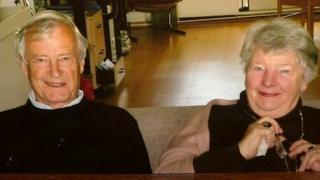 The death of a ferry passenger who was killed when a large wave smashed through a restaurant window was an accident, an inquest has found.
James Swinstead, 85, from Colchester, died in February on the Marco Polo in the English Channel.
The inquest in Chelmsford heard that a 15m high wave smashed into the side of the ship smashing four windows and instantly killing Mr Swinstead.
Essex coroner Caroline Beasley-Murray recorded a verdict of accidental death.
The inquest was told that rapidly-changing weather conditions could not have been foreseen.
The Bahamas Maritime Authority has since brought in bespoke weather reports for its cruise ships.
Ms Beasley-Murray said: "In light of all the evidence that has been heard before this court I shall record a conclusion on the record of inquest - that is answering how he died - that James Malcolm Swinstead died as a result of an accident, a tragic accident.
"He clearly was a much-loved gentleman."
The Bahamas-registered passenger cruise was heading for its home port of Tilbury, Essex, at the end of a 42-night voyage when it was hit by an "extremely large" wave, at about 13:05 GMT on 14 February.
It was carrying 735 passengers and 349 crew.
Mr Swinstead was in a restaurant with his wife when the wave hit, forcing two windows out of their fittings and shattering two others.
Forensic pathologist Dr David Rouse told the inquest that Mr Swinstead suffered a fractured skull and extensive brain damage.
A Bahamas Maritime Authority report, published in November, said passengers noticed "a number of windows" had "leaks or rust stains".
Sixteen passengers and crew were injured, mostly by flying glass.
The report said an inspection of the ship found cracks in window frames.
However, it acknowledged the sea state was "phenomenal".