'Sadistic' online killer Lewis Daynes arrested over rape claims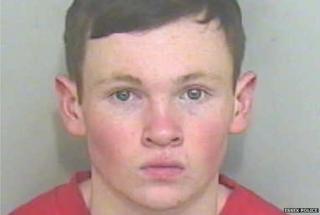 A "sadistic" teenager who killed a 14-year-old he met online was arrested over the suspected rape of another boy almost three years beforehand.
Lewis Daynes, 19, of Rosebery Road, Grays, Essex, admitted murdering 14-year-old Breck Bednar last February.
Restrictions preventing the reporting of five other counts faced by Daynes have been lifted.
The prosecution said there was not a realistic prospect of conviction, given Daynes had admitted murder.
The charges - which Daynes denied - will not be proceeded with as a result.
They included attempted rape and two of engaging a person in sexual activity without consent.
Both Daynes and the alleged assault victim were 15 years old at the time of the incident, which dates back to 2011, the Crown Prosecution Service said.
It is understood the offences were reported to Essex Police and were investigated but officers decided not to take any further action.
The crimes were reinvestigated as part of the murder inquiry and charges were brought.
The matter has been referred to the Independent Police Complaints Commission.
Daynes, who had previously denied murdering Breck Bednar, changed his plea on the first day of his trial in November.
Breck, a churchgoer and member of the Air Training Corps, went to meet Daynes at his flat on 17 February 2014. He was fatally stabbed in the neck.
A post-mortem examination found Daynes had slashed his victim's throat.
There was evidence of sexual activity between the two shortly before Breck was killed, Prosecutor Richard Whittam QC told the court.
He said the murder had "involved a sexual and sadistic motivation".
Prior to the killing, Daynes bought duct tape, condoms and syringes online.
Breck's family have set up a foundation in his memory to promote online safety and responsible use of the internet.
Sentencing of Daynes for murder is due to conclude later.