Harlow's Princess Alexandra hospital apologises for store room bed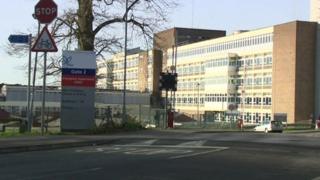 A man who was treated in a hospital storage room because of an "unprecedented number of emergency patients", has received an apology.
Princess Alexandra Hospital in Harlow, Essex, said the side room was being used temporarily as extra bed space.
Michael Steel, 63, told the Mirror newspaper he stayed in a bed in the store room for three days.
"We fully accept that this arrangement was far from ideal," a hospital spokeswoman said.
"It did, however, allow us to carry on treating emergency patients.
"We apologise unreservedly to Mr Steel and his family and would be happy to meet him to explain in more detail the reasons behind this decision."
Senior hospital staff carried out a "comprehensive" risk assessment of the room before Mr Steel, a "low-risk" patient, was transferred there, the spokeswoman added.
Peter Blackman, a health campaigner based in Essex, said the hospital had done "the best it possibly could".
"It was much better that he was in a proper bed, in a room, rather than left in an ambulance, or on a trolley, or in a corridor," he said.
"I applaud their creativity in finding somewhere they could put a proper bed."
The BBC was unable to get a comment from Mr Steel.