Havens Hospices secures new site after four-year battle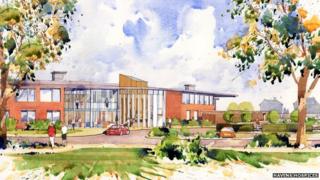 A hospice has secured permission to build a larger, specialist site after four years of fighting to get plans approved.
Havens Hospices in south Essex will spend £16m on the project in Prittlewell, Southend.
The hospice was previously refused planning permission for a site on green belt land in nearby Leigh-on-Sea.
Chief executive Andy Smith said he was "thrilled and relieved" planning permission had finally been granted.
"I think I would describe it as establishing base camp at the foot of the Himalayas and we're very pleased to have done that," he said.
"In a way, the climb and the real work now begins."
The 3.5 acre Fair Havens Hospice will be built alongside a housing development on land formerly occupied by a factory.
Southend Borough Council approved the plans by a majority of 12 votes to two.
The site will be able to care for twice as many people as the current hospice, and will include more outpatient services like transfusions and counselling, as well as a 16-bed inpatient unit.
The hospice's head of inpatient services, Catherine Wood, said securing the project's future would make a "huge difference".
"Although our care team remains focused on caring for the patients and families who need us now, this is a positive step towards a new, modern hospice where we can care for more people when they need us most," she said.