Harlow street lights switch-off policy could be reversed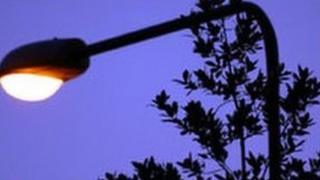 Street lights turned off for five hours at midnight in Harlow since March 2014 could be switched back on.
Essex County Council introduced the policy to save £6.5m from budgets by 2020, but it brought complaints by people suffering injury or crime.
Harlow Council carried out a review of the lighting policy during its budget consultation last summer.
A recommendation to turn the town's street lights back on will be put to the council's cabinet later this month.
The council said it had been considering turning the lights back on for a number of months while preparing budgets for 2015/16.
In a statement, it said: "Since March 2014, street lights in Harlow owned by Essex County Council have been turned off between midnight and 05:00 GMT or BST seven days a week as part of the county council's street lighting policy."
Campaigners against the policy included people who had been hurt, and one official claim against the county council was made after a trip over a small fence on a footway in The Fortunes area of Harlow.
Other people complained of thefts and robberies as they walked in the dark.
Meanwhile, owners of licensed premises said people were leaving early if they had to get home in the dark and that was affecting their businesses.
Essex County Council is expected to comment later.