Colchester Hospital maternity unit shuts for 36 hours as cots full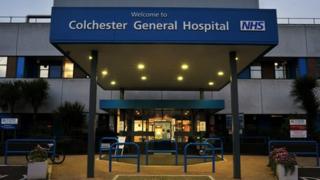 The maternity unit at an Essex hospital was shut to new admissions in the early hours of Sunday when cots for babies born with complications became full.
Women due to give birth at Colchester Hospital were transferred to other units across the region.
The Norwich and Norfolk, West Suffolk at Bury St Edmunds, Cambridge's Rosie, Ipswich and Bedford hospitals took the expectant mothers.
Colchester Hospital said it would write to the 13 affected women to apologise.
High-dependency
"The unit was very busy, in part because of a spate of twins being born and newborn babies needing to spend a long time on the unit," the hospital said.
A consultant obstetrician decided to close the unit to new admissions as staff could not predict if any would need the specialist care.
The neonatal unit has 12 cots, plus one for intensive care and four for high-dependency.
The maternity unit reopened after 36 hours when cots became available again.
'Safety grounds'
This was the third time in the past 30 years the maternity unit has had to close.
Other maternity units in the region have also had to close in the past six months due to staff shortages, the hospital said.
Julie Hinchcliffe, lead midwife, said the Colchester unit was closed for 36 hours from 01:30 GMT on Sunday.
"The decision was taken by clinicians on safety grounds in the best interests of unborn babies because there was no neonatal unit capacity available if any newborn baby required extra support," she said.
The neonatal unit admits 550-600 sick or premature babies every year and 25-30% (up to 180 babies) need ventilator support.