Essex County Council plans to freeze council tax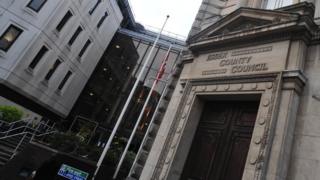 Roads, transport and flood defences are to get investment of £280m in Essex while the council freezes tax for a fifth year running.
Included in budget plans is £10m over two years for changes to the A120 and Chelmsford north east bypass.
An additional 3,000 primary school places are to be created costing £79m, the Conservative county council said.
Vulnerable people are to be hit by cuts to pay for these investments, the Labour opposition said.
'Army of officers'
The council's government grant has been cut by £49m but cabinet member for finance John Spence said this had been taken into account.
The council had restructured and this had helped save £450m over the past four years.
"However, there are still challenging times ahead with austerity set to continue until at least 2020," he said.
Labour leader Julie Young said: "It's becoming increasingly challenging trying to balance the books.
"There are also things that could be done better.
"The leader of the council is paid more than comparative councils and an army of officers with salaries over £100,000 is supported by the budget.
"Yet, services for vulnerable people, like meals on wheels, are to be cut."