Baby death parents criticise Southend Hospital care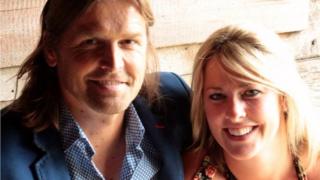 The parents of a baby who was strangled by his umbilical cord have criticised hospital staff for failing to properly monitor him.
Frankie Hodges died from oxygen starvation at Southend Hospital, Essex, less than an hour after he was born on 29 March last year.
A coroner recorded that he died after serious failings in his care.
Caroline Beasley-Murray said "more timely intervention" might have allowed baby Frankie to survive.
His parents Ami Solomons Hodges, 31, and her partner Russell Lee, 48, from Great Wakering, Essex, said the inquest "confirmed [their] suspicions".
Ms Solomons Hodges said: "I have always believed that had medical staff listened to my concerns and monitored Frankie's condition more closely, Frankie would have been delivered sooner than he was and he would be still with us today."
The inquest in Chelmsford heard Ms Solomons Hodges had been admitted to hospital after a "a spontaneous rupture of membranes", and Frankie was delivered by emergency caesarean section.
The inquest heard how, during labour, Frankie's heart rate was monitored, but staff failed to recognise he was in distress and needed to be delivered.
"This resulted in a significant delay in Frankie's delivery, during which time he was starved of oxygen," his family's solicitors Irwin Mitchell said.
Southend University Hospital NHS Foundation Trust carried out an internal investigation following Frankie's death.
The report concluded staff failed to adequately interpret the baby's heart monitor trace during labour.
It also listed the fact that Frankie's delivery occurred during a shift handover as a contributory factor to his death, an Irwin Mitchell spokeswoman said.
In a statement, Southend Hospital's medical director Neil Rothnie extended his condolences to Frankie's family.
He said a number of "positive changes" had been implemented since Frankie's death, included enhanced heart monitor training.
"We appreciate the inquest was very difficult for Frankie's family and we would like to assure them that lessons have been learnt from this very tragic case," he said.