Dedham toilet row: 'Unfair' for locals to pay for upkeep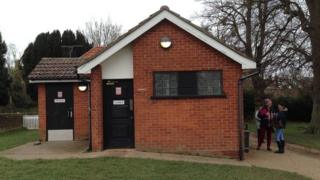 Public toilets "mainly used by tourists" should not be paid for by local people, a council has said.
The toilet block in Dedham, Essex, is currently maintained by Colchester Borough Council, but funding is set to be withdrawn.
Dedham Parish Council said it could not afford maintenance costs without putting up its council tax.
Its chairman said that would be "unfair", as the toilets were used by visitors "80 or 90% of the time".
"We've had a consultation, it went to the parish council, and the general view was that it wasn't right to increase the precept and make local people pay," said Sheila Beeton.
She said she believed the cost of maintaining the block - about £10,000 a year - should be met by Colchester Borough Council.
"A small council like Dedham hasn't got reserves to afford it," Mrs Beeton said.
"Our shops all pay business rates, but the only contribution Colchester Borough Council makes to our village is the toilet facilities.
"To suggest it should be closed down is appalling."
Mrs Beeton estimated that each year, more than 100,000 people visit the village which is at the heart of "Constable Country" and is in an area of outstanding natural beauty.
Colchester Borough Council said it would stop funding a number of public toilets across the area, including several in West Mersea.
The facilities were saved after West Mersea Town Council agreed to take over ownership.
A petition has been started to call on Colchester Borough Council to continue to fund the public conveniences.
Tina Bourne, the local authority's portfolio holder for housing and public protection, said the council had "really difficult decisions to make".
She said she had contacted Dedham Parish Council to offer further talks about the future of the toilets.