Southend father died in 'drugs' row, court hears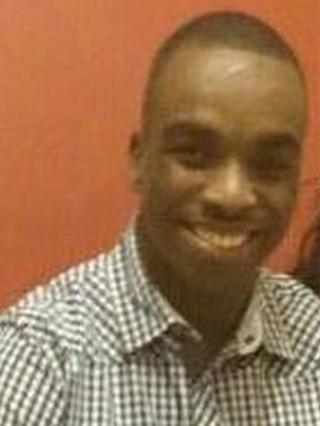 A young father was stabbed to death in an argument about drugs, a court has heard.
Michael Haastrup, 24, from Southend, was attacked at a property in Braintree, Essex in April last year.
Luke Eva, 24, of Avondale Road, Leigh-on-Sea, denies murder but has admitted carrying a knife in a public place.
On Wednesday, Chelmsford Crown Court was told, Mr Haastrup, who had become a father shortly before his death, was stabbed in the thigh and the chest.
The attack took place at a flat in Cressing Road which belonged to a mutual friend of the two men, the jury was told.
Prosecutor Karim Khalil QC said the defendant had argued with Mr Haastrup over the phone, on the evening of the stabbing, 16 April 2014.
An hour later, Mr Eva took a taxi to the flat, carrying a knife with him.
The men started fighting, with Mr Eva reportedly holding a knife and Mr Haastrup holding a hammer.
The brawl continued outside the property, when the men armed themselves with pieces of wood but Mr Haastrup said he felt faint and could not breathe properly, Mr Khalil told the court.
He collapsed against a wall and told a friend: "Tell my son I love him".
Mr Khalil told the jury two different knives had been used to inflict Mr Haastrup's wounds - the one which stabbed him in the chest had a serrated edge and had gone about 8cm (3.1in) into his heart.
He was pronounced dead in hospital.
The prosecution said it expected Mr Eva would admit he stabbed Mr Haastrup, but that he did so in self defence.
The trial is expected to last for three weeks.