Men sentenced for Harlow golf buggy joyride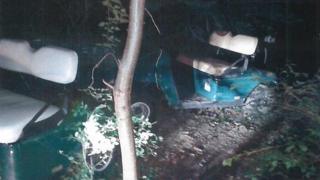 Two men went on a joyriding trip on golf buggies before hiding from police in a tractor tyre.
James Alexander Seaton, 21, and Darrel Swann, 18, both from Harlow, ripped the roof off one of the buggies as they rode around Canons Brook Golf Club.
Police deployed a helicopter to search for them but it was abandoned as they headed to woodland. They were later found by officers on foot.
Both men were given community orders at Chelmsford Magistrates' Court.
Seaton, of Barley Croft, and Swann, of The Briars, were found guilty of causing criminal damage to the buggies, which were worth about £1,500 each, and to the golf club grounds, including putting greens and a cricket pitch.
They had gone for a night time ride at the course, which is near Harlow in Essex, on 8 July.
During last month's court hearing, Sgt David Nicholls said: "There was a bit of dew on the grass, it was fairly easy to see where they had gone.
"Tyre marks led around the golf course, zigzagging and circling the grass, and onto the cricket pitch."
He said officers found one of the buggy's roofs had been "broken off" and a sign had been damaged.
The vehicles were found on the edge of the woodland.
"Both buggies were in a bit of a state," Mr Nicholls said. "Scuffed, panels missing and one roof missing.
"Inside the woods were several large tractor tyres and inside one the two defendants were curved around the edge of the tyre."
Both men were given an 18-month community order and made to pay £535 at Monday's sentencing.
They were also disqualified from driving for 12 months.