'Appalling' lack of repairs on M11 despite four years of roadworks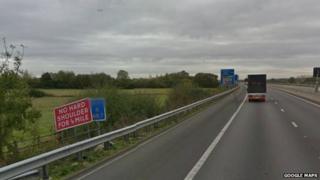 A lack of any progress on motorway repairs despite four years of roadworks has been described as "appalling".
An area of the M11 in Essex was fitted with a "temporary barrier" following subsidence on the road embankment, but repair work is yet to start.
It is hoped a "bigger scheme" to fix the issue will start by the end of March 2016, the Highways Agency said.
RAC spokesman Simon Williams said the case was "one of the worst" he had ever heard of.
"You'd imagine [subsidence] was a fairly serious problem which could get worse, so it ought to be fixed as a matter of priority," he said.
Mr Williams claimed the roadworks had become "part of the fabric of the road".
A Highways Agency spokeswoman said the fixtures were the "best solution" while a replacement project was developed.
A barrier and closure signs block off the hard shoulder for about half a mile (0.8km) on the southbound carriageway, just before junction eight for Stansted Airport and the A120.
The agency's spokeswoman was unable to confirm the date the roadworks were first put in place.
But she said the eventual repairs would include "moving an overhead electricity cable, building a retaining wall on the embankment and replacing the safety fencing".