Colchester United: Peter Wright statue at Layer Road site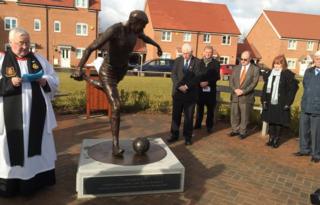 A statue of Colchester United's Player of the Century has been unveiled on the site of the club's old Layer Road ground.
Peter Wright, who played over 400 games from 1952 to 1964, was voted the U's greatest player by supporters in 2000.
The club left Layer Road, which was sold for housing, in 2008.
The statue is in a memorial garden built at the request of relatives of fans who had their ashes scattered on the Layer Road pitch.
About 150 people attended the unveiling of the statue by Wright's widow Lindsey and his son Steve, who also played for Colchester.
'Roaring'
Barry Smith, chairman of the club's former players' association, was a youth team player when Wright was in the first team in the old third division.
"The first game I watched was in 1963 and I remember him roaring up and down the left wing.
"He's obviously very fondly-remembered by older fans and he was very active with our association."
Wright, who died in 2012, joined as a part-time professional in 1951 and also worked at the Paxman Diesel factory in the town.
Bobby Hunt, who played alongside Wright, said: "If he'd gone to a larger club when he had the opportunity he could have succeeded at international level, but he chose to keep his other job and stay in Colchester.
"I certainly wouldn't have scored as many goals without him."
The statue was designed by local artist Mandy Pratt.