'Common sense prevails' in Dedham toilets row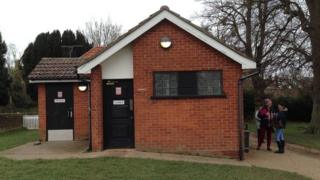 A village council said "common sense has prevailed" in a row over who should pay for public toilets "mostly used by tourists".
Funding for conveniences in Dedham, Essex, was set to be withdrawn by Colchester Borough Council.
But Dedham Parish Council said it could not afford the upkeep without raising its council tax.
An agreement has been reached which will see Colchester Borough Council pay maintenance costs for the next year.
Dedham Parish Council chairman Sheila Beeton said: "We think that common sense has prevailed. We both realised the best thing to do would be to maintain the status quo for the forthcoming year.
"We will meet next year, when we can look at other proposals which might enable us to find a longer-term solution."
Mrs Beeton had been concerned about asking local people to pay more tax to cover the £10,000 a year needed to maintain the toilet block, used by visitors "80 or 90% of the time".
Tina Bourne, Colchester Borough Council's portfolio holder for housing and public protection, said: "I'm pleased we have reached an agreed position and look forward to continuing our discussions for the benefit of Dedham residents and visitors alike."