Jackie Doyle-Price upset by car cruising troll abuse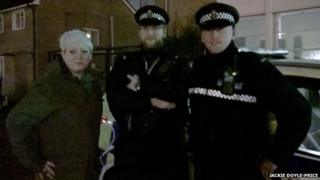 An MP says she is "upset but not surprised" by insulting comments on Facebook, one of which calls for her to be murdered.
Friends of the Lakeside Cruising account were commenting on Thurrock MP Jackie Doyle-Price's involvement with a police campaign to tackle car cruising.
Ms Doyle-Price was referred to as a "slag" and other expletives. One user said: "Murder the bitch."
The man who runs the account said he was "terribly sorry" about the abuse.
Ms Doyle-Price accompanied Essex Police on a patrol of the Lakeside area at the end of January.
'Aggressive'
On her Facebook page, Ms Doyle-Price said the people who met to parade their customised cars were a danger to road users and caused "noise nuisance" to nearby residents.
Her post provoked heated discussion and several sexist comments.
But the comments on Lakeside Cruising, a personal account with almost 4,000 friends, were more extreme.
"It's part of the territory, but it shouldn't be," Ms Doyle-Price said. "This is Great Britain, we are supposed to be a civilised liberal democracy."
The Conservative MP described the comments as "completely unacceptable", but said she did not feel threatened by them.
"They don't make me feel vulnerable, they just make me feel sad," she said. "It's amazing how aggressive and confident people can be behind a keyboard, but they're rather less so in person."
Ms Doyle-Price said the police had encouraged her to make a formal complaint, but she had decided against pursuing the issue.
"Right now I'd rather the police got to the bottom of car cruising at Lakeside rather than running after some trolls," she said.
BBC Essex contacted the man behind the Lakeside Cruising account, who wished to remain anonymous.
He apologised and said some of the comments were "quite disgusting".