'Dog mess' report cards launched in Essex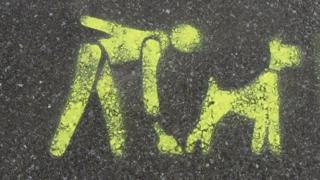 A council has asked people to fill in cards reporting dog owners who fail to clear up their pets' excrement.
Tendring District Council in Essex has urged residents to note down evidence as part of a crackdown on the "irresponsible" few.
Cards asking for details of the dog and its handler, number plates and times and places are being issued in roads where a problem has been reported.
The council said proper evidence would mean it can take action against owners.
Nick Turner, council cabinet member for environment and coast protection, said: "We need people's assistance to target the offenders.
"Those that fail to pick up after their dog can be issued with a fixed penalty notice of £50 and they can be taken to court if necessary.
'Great idea'
"Wrapped dog mess can be put into any council litter bin and there is absolutely no excuse for it."
He added that all information received would be treated as confidential.
On Look East's Facebook page many people backed the council's plan.
Jennifer Smith wrote: "Think it's a great idea, (if you can catch them in the act!). It is so annoying when you've come in the house and realise that you've wheeled dog [mess] in on the pram wheels or one of the kids has it on their shoe.
Everisto Mumba said: "This problem is here in parts of Peterborough, too. Peterborough City Council should do the same."
Sally Glen thought the scheme might be hard to police and said: "We have this problem too in our village. The trouble is, the offenders are sneaky enough not to be caught in the act. Finding them to issue a fine is not easy."