Naked Braintree fire bus-leap man Mitch 'doing OK'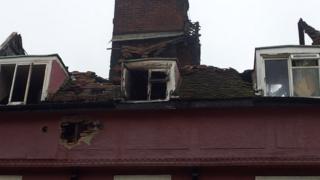 A man who leapt naked from the roof of a homeless shelter to escape a fire has been released from hospital.
The man - called Mitch - had been in the shower before leaping 10ft (3m) on to a double-decker bus on Wednesday.
He was one of three homeless people staying at the Braintree Emergency Night Shelter (BENS) at the time.
Shelter founder Rob Sefton said Mitch was "doing OK" but could have been "horribly injured" had the bus not stopped beneath.
Mitch was treated for the effects of breathing in smoke at Broomfield Hospital before he was discharged on Wednesday night.
He is currently being housed by Braintree District Council.
Mr Sefton said: "Mitch was naked as the day he was born.
"He jumped from the roof - he had to step out of the second floor window.
"Although he was not injured in the fall he still had to jump quite some way."
Essex police are treating the fire as arson and say they want to find a man, believed to be aged about 19, spotted fleeing the scene.
First Essex driver Andy Waterman was driving the out-of-service double-decker back to the depot when a group of people stopped him to ask him to help.