Gizmo the foal fans exceed £11K care bill target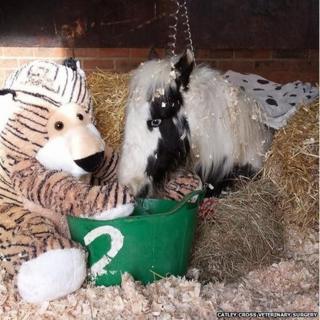 An appeal to help pay for the care of an abandoned foal found near death on a roadside has exceeded its target after hundreds of people donated.
Gizmo was found in an "emaciated state" near a caravan park in Yeldham Road, Halstead, Essex on 17 February.
The RSPCA launched an appeal to raise £11,000 towards his ongoing care at a specialist equine clinic.
Its campaign has now raised about £13,000 after almost 700 people from all over the world responded, it said.
Four-month-old piebald cob Gizmo was "in a very poorly state" when Catley Cross vet Carolyn Wyse was called in by the RSPCA.
He had been "left to die", Mrs Wyse said, and his condition was described as "touch and go". Gizmo was "hypothermic, dehydrated and collapsed - and essentially dying".
'Kind and generous'
She posted his story on the clinic's Facebook page the following day, appealing for "old turnout rugs" to keep him warm.
The RSPCA also launched a JustGiving appeal asking for help towards Gizmo's £500-per-day care costs.
A target of £11,000 would cover his £5,000 emergency treatment costs and £6,000 would pay for his ongoing care and preparation for a new home.
To date, about £13,000 has been raised by donors who had shared Gizmo's story around the world, the RSPCA said.
Any surplus would be used to help other ill-treated equines, the charity said.
Although he had faced several set-backs, "Gizmo improves every day", Mrs Wyse said.
"It's unbelievable. We still can't believe how kind and generous people have been.
"Basically it started with an appeal for eight blankets, but I think my original post has been shared something like 285,000 times," Mrs Wyse said.
"To be honest he's worth nothing financially to anybody. But to us, and apparently most of the world, he's worth a lot. It's really heart-warming."