Dovercourt's 1940s roller skating rink set to re-open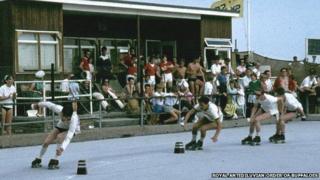 One of Britain's last outdoor roller-skating rinks is set to re-open after facing several battles against closure.
The 1940s rink in Dovercourt, Essex, was revamped in 2010 but was in danger of going bust over insurance costs after an accident the following year.
It was saved by donations last year but closed again at the end of 2014 when the lease expired.
Tendring District Council, which owns the site, said a new tenant would be announced "within weeks".
"We are talking about a prominent location on Dovercourt seafront and we do not want it standing empty a day longer than is necessary," said council leader Mick Page.
The open-air facility, first opened in 1947, ran into financial difficulties after a person was hurt on a ramp on the site in 2011.
Insurers opted to settle the claim out of court, causing the management's insurance costs to quadruple to £12,000 a year.
Volunteer John Brown said donations saved the site, allowing it to stay open until its insurance costs were lowered.
Tendring District Council said the facility was "well used by young people" and it hoped the successful tender bid would "achieve an improved facility for residents and visitors".