Naked fire Braintree bus leap man says he 'would have jumped'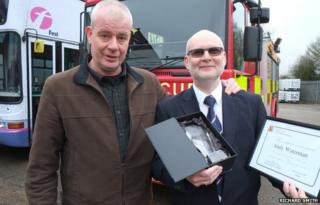 A homeless man who found himself naked in a blazing building says he would have jumped to the ground had a bus driver not rescued him.
Mitchell Cook had been in the shower of a homeless shelter in Braintree when a fire took hold earlier this month.
Passing bus driver Andy Waterman pulled up next to the building so Mr Cook could leap on to the roof the bus.
Mr Waterman has been presented with a commendation from the Essex Chief Fire Officer.
Chief Fire Officer Adam Eckley said Mr Waterman's actions possibly saved Mr Cook's life.
Mr Cook, who was not seriously injured in his 10ft (3m) leap, told BBC Essex he was in such danger he was contemplating jumping the much greater distance from the window to the ground - and would have done if the bus had not appeared.
He said meeting Mr Waterman in private had been an "overwhelming" experience.