East of England Ambulance Service lost equipment worth £215k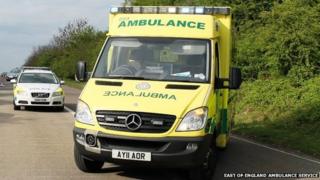 Equipment worth more than £215,000 was reported lost by an ambulance service between 2012 and 2014, figures show.
Thirty specialist laptops, defibrillators and a vomit bowl were among items lost by the East of England Ambulance Service NHS Trust show.
The data was released following a Freedom of Information request from a member of the public.
The trust said the problem of losing items was a "significant challenge".
"That's why we're putting a great deal of focus into making sure we put practices and measures in place to minimise this going forward," said Karl Edwards, a West Essex manager at the trust, which covers Bedfordshire, Cambridgeshire, Essex, Hertfordshire, Norfolk and Suffolk.
He admitted equipment was sometimes left at scenes attended by ambulance crews because the situations they work in can be "dynamic" and "chaotic", and the focus was placed on giving patients the best possible care.
During the period in question, the trust lost 10 defibrillators worth £90,000, 64 thermometers worth £72 each, 16 blood glucose monitors and a stretcher worth more than £8,000.
Thirty "Toughbook" laptops, worth £2,500 each, were also lost.
The items were all classified as "lost" rather than stolen, the trust confirmed. It said it did not know how many of the items had subsequently been found.
Andy Silvester, campaign director for the Taxpayers' Alliance, described the situation as "ludicrous".
"It's simply inappropriate that we a) have lost this equipment in the first place, and b) that we don't know whether we've got it back," he said.
"£215,000 is an awful lot of money."