Royal London cancer patient given 'post-death' op date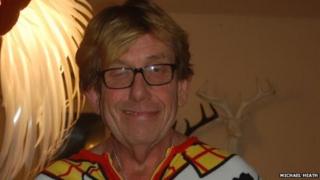 A cancer patient given four weeks to live by doctors was told he would have to wait five weeks for vital surgery.
Michael Heath, 57, arrived for the operation at the Royal London Hospital on Sunday but was told it could not go ahead.
Mr Heath, who has pancreatic cancer, said the postponement felt like the hospital "signing a death warrant".
The hospital, which has now rescheduled the operation for Saturday, apologised for any "additional stress" caused.
Mr Heath, from Thorpe le Soken, Essex, was first diagnosed just over three weeks ago and told he had "just a couple of months to live" unless he underwent surgery.
But, he said, when he arrived at the hospital on Sunday he was told there was not an intensive care bed available for post-surgery treatment.
"When they cancelled the surgery, we didn't cry, we didn't get upset," he told BBC Essex.
"We just said: 'Right, by the end of the day we'll have changed the world'. And it seems we have changed the world."
'Blatantly wrong'
Mr Heath said he hoped his case would help others who had important surgery rescheduled.
"I'm strong enough that I will rattle cages," he said.
"I will use anything I know to try and stop this situation for other people, because it's blatantly wrong."
The Barts Health NHS Trust, which runs the Royal London, said the cancellation was a result of emergency operations being prioritised.
"A recent significant increase in the number of emergency operations performed at the Trust has seen some patients prioritised above planned operations, in order to ensure their safety," a spokesman said.
The trust confirmed Mr Heath had been booked in at a private hospital in London to have the operation on Saturday, which would be funded by the NHS.