Paul Fether death: Spain trial silence 'a brick wall'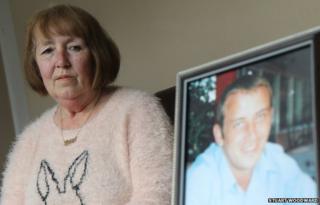 The mother of a man who died in Spain five years ago has said trying to find out when his alleged killers will face trial was like "hitting a brick wall".
Paul Fether, 31, was killed in Benalmadena near Malaga in April 2010.
His mother Beryl, from South Ockendon, Essex, said she has had no definitive information about his death and paid £12,000 to get his body back to the UK.
The Foreign Office said it provided assistance to Mr Fether's family at the time of his death in 2010.
'Slow death'
Mrs Fether said she only had knowledge of the case through local newspaper reports and had never been told where her son's personal effects were.
"This is what really upsets me, because I haven't got a clue," she told BBC Essex.
"I'm not saying he was a saint, and I can't say what he was doing over there, but whatever it was he didn't deserve to die that way.
"Going by the papers, they reckoned he was tortured for about an hour and a half.
"But the coroner said he didn't think he'd been tortured, but it was a slow death," she said.
Mrs Fether said not having a trial date was "a complete nightmare", as she would need enough notice to arrange accommodation and an interpreter for the court proceedings.
"The trial is due anytime and I've got a feeling they're not going to tell me when it is. I need to know so I can go over for it," she said.
The BBC was unable to contact the British Embassy in Madrid for a comment, and is yet to receive a reply from police in Benalmadena.
Essex Police said it provided Mr Fether's family with a liaison officer who supported them at the time of his death, working with the Spanish authorities.
A Foreign Office spokeswoman said: "We cannot comment on the detail of individual cases. However we continue to follow this case closely."