Harwich to Felixstowe foot ferry could close after 100 years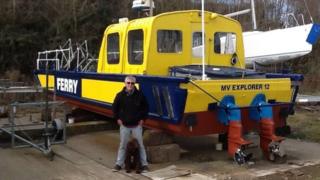 A foot ferry that has linked Essex and Suffolk for more than 100 years could stop running if a new operator is not found.
The Harwich Harbour ferry has been carrying pedestrians and cyclists between Harwich, Felixstowe and Shotley since 1912.
Alan Sage, the service's current owner, is selling the vessel as he plans to retire.
If a new owner cannot he found the service could end next month.
The ferry operates from Easter until the end of September and carries a seasonal average of 14,000 passengers.
Mr Sage's boat, the Explorer 12, was built in 1984 and he has used it on the route for 11 years, carrying up to 12 passengers at a time.
Having carried "in excess of 150,000" people, Mr Sage said the "time is right for me to stop".
'Big blow'
The business has been for sale since November but there had not been much interest, he said.
"A couple of people have made enquiries but nothing came of those and we're now getting short of time as the service is supposed to start again in a few weeks.
"At the moment there isn't a buyer. I'm worried that the service will stop and I'd like it to continue," Mr Sage said.
A number of county and district councils help support the ferry financially.
Graham Newman, mayor of Felixstowe, said Mr Sage's decision to sell, and the subsequent closure of the service, would be "a big blow".
Councils would be working together to see what could be done to "get this system back up again as early as we can this season", he said.