Network Rail: Grays crossing closure could be 'seriously considered'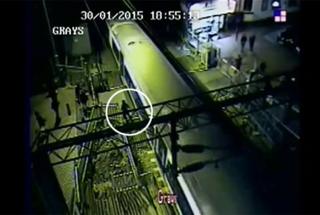 The closure of a level crossing in Essex will be "seriously considered" if people continue trying to "beat the barriers", Network Rail has warned.
In the last six months more than 260 incidents have been recorded of people taking shortcuts and climbing over fencing at the Grays crossing.
Thurrock Council leader John Kent said it was "not right" that the service was being "threatened by a thoughtless minority".
A safety campaign is under way.
People have been seen by CCTV jumping off the platform, walking along the tracks to the crossing to exit the station or entering the station through the crossing and then coming on to the platform, National Rail said.
Others have damaged the barrier railings making them wide enough for a young child to squeeze through.
"It may be tempting to shave a minute or two off your journey but... people are putting their lives at risk by walking on the track or trying to beat the barriers," said Network Rail's Steve Cassidy.
"Some people may think that taking a shortcut along the tracks isn't really a risk, that they can get out of the way of the train but fatality figures show this isn't the case.
"Waiting at a crossing can sometimes be frustrating but ignoring safety measures can result in tragic consequences, something we want to prevent."
Between July 2014 and February 2015, 26 trespass offences were recorded in and around the station by the British Transport Police.
Mr Kent said: "Network Rail has made it clear that - as a last resort - they may have to close the crossing, simply shut it down. I do not want that to happen.
"We cannot afford one life lost or one person in hospital because of their own or more likely, somebody else's stupidity."
Network Rail is working with Thurrock Council to find a long-term solution for the level crossing and carrying out a feasibility study into replacing it with a subway.