Youngest councillor defeats UKIP to win Bocking by-election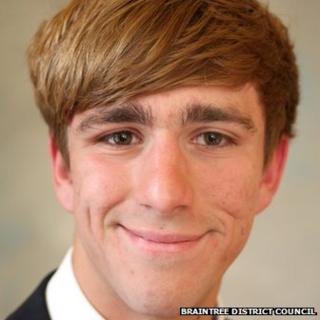 A 22-year-old Conservative has become the youngest councillor on Essex County Council, by taking the Bocking seat from UKIP at a by-election.
Stephen Canning won Thursday night's count by 97 votes, with Labour in second place and UKIP in third.
Fewer than 200 votes separated the three parties, with turnout down to 22.9% from 29% in 2013.
The election was triggered by the death of UKIP incumbent Gordon Helm on Christmas Eve.
Mr Canning has represented the Bocking Blackwater ward on Braintree District Council since he was 18.
The by-election result saw Mr Canning win 1,071 votes, to Lynn Watson's 974 and Michael Ford's 855.
UKIP had previously won the seat from the Conservatives by 20 votes in 2013.
Mr Canning said he was "delighted" to have the chance to represent an area "I have always lived in, that I really love".
He said: "The first thing I will be doing is learning the ropes, learning my way round and how I can best stand up for the people of Bocking."