Beambridge pregnant woman crowbar attack: Partner speaks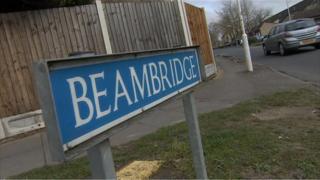 A man has told how armed raiders attacked his girlfriend with a crowbar while she was in labour at home.
The partner said he heard "glass smashing" and "screaming" as the men broke into their house in Beambridge, in Basildon, at 21:00 GMT on Monday.
His partner, 22, whose skull was fractured, later had a haemorrhage but gave birth to a healthy baby.
In a Facebook post, the man said: "How can anyone take a crowbar and a knife to a pregnant person?"
The woman was taken to Basildon Hospital for emergency treatment and later gave birth.
The man said their two-year-old son was at home at the time. He said: "I heard glass smashing and I heard my partner screaming my name."
He ran downstairs to find people with "bats and crowbars" smashing through their window.
He said the people, wearing balaclavas, cornered the two of them and hit his partner with the crowbar, even though they knew she was in labour.
"They hit my partner with the crowbar and bats and cut her across the face, screaming and demanding money. They did not care," he said, adding the attackers stole an iPad and £60.
His girlfriend was taken to hospital where she was treated for a fractured skull and received stitches across her face. She had bruising all over her body, he said, and suffered a haemorrhage but he said: "Lucky enough, the baby was fine."
He said the couple did not intend to return to the home. "There must be someone who knows something, please help us," he said.
Det Insp Joel Henderson, from Essex Police, said: "This was a shocking attack on a young woman who was in labour. It is vital we get those people responsible off the streets of Basildon."
Four of the men were described as white and one was black. They were said to be in their early to mid-20s.