Southend Airshow will not take place in town over costs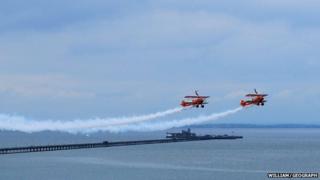 The Southend Airshow will not be held in the town this year due to the costs of staging the event on the seafront.
The airshow, scrapped in 2013 by the council, was set to return in September after volunteers raised £220,000.
But organisers have now told BBC News "it is not economically viable" to host the show in the Essex town.
Tom Curtis from the Southend Airshow Community Interest Company (SACIC) said the group hopes to confirm a new location "in the next couple of weeks".
The decision not to host the event in the town - which ran for 28 years until 2012 - follows meetings with Southend Borough Council.
Costs related to road closures, marshalling and emergency cover throughout the two-day event were behind the decision, said Mr Curtis, who did not wish to disclose the sums involved.
"This is a big hit to us, it's only happened in the last week we've had to make this decision," he added.
"I appreciate the council must get as much money as it can for the town, it's facing some harsh economic times - so we perfectly understand the situation, it just means we can't hold the event in Southend."
The council said it was "disappointed" but had "been open" about costs.
Graham Longley, from the borough council, said: "The high costs of running an event of this scale are well known and are the main reason the council could no longer justify funding the event with council tax-payers' money at a time when we were having to make tough decisions about budget cuts."