Fairglen interchange fire continuing to burn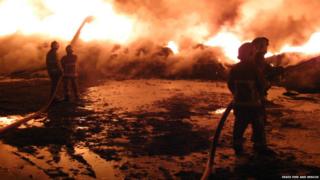 A fire which caused "severe disruption" to road and rail services in Essex is continuing to burn into its third day.
The fire involving a 160ft (50m) long stack of tyres at Michelins Farm in Rayleigh started on Monday night.
Train services between Rayleigh and Wickford were cancelled on Tuesday and residents warned to stay indoors to avoid breathing in smoke.
A smoke plume over the site remains visible. A police investigation into the cause of the fire continues.
The A1245 southbound between the Fairglen interchange and the Carpenters Arms roundabout reopened about 16:00 GMT.
The northbound carriageway remains closed while fire and other agencies manage the ongoing incident, but it is hoped it will reopen on Thursday morning, police said.
Talks are under way between the Environment Agency and Rochford District Council over the future of the site, which was last year at the centre of legal and enforcement action.
The previous owner, Roger Phipps, was jailed for six months last July for environmental offences and a breach in planning laws. A new owner took it over last year and it was hoped the plot would be cleaned up and redeveloped as a business park.