Essex Fire Service walk-out now to last nine days union says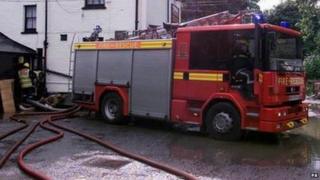 A walk-out by 19 staff at the Essex fire service emergency control room will now continue for nine days.
The action is in protest at new shift patterns which the Fire Brigades Union said had forced staff to reduce hours or jobshare.
Frances O'Grady, TUC general secretary, said control staff with care issues, particularly women, could leave.
Essex fire chiefs said it was not a gender issue and the control room employed men and women.
Ms O'Grady said: "We know that women have been badly hit by the recession and by falling standards and quality of employment - increasingly facing low paid, low skilled and precarious work.
"These are good quality jobs, with women providing a valuable and professional service.
"The TUC urges the Essex fire service to properly consider the alternatives proposed by the Fire Brigades Union and enable these women to remain in decent employment."
The strike is now due to end on March 20.