RSPCA's seizure of 44 dogs at Lawford house unauthorised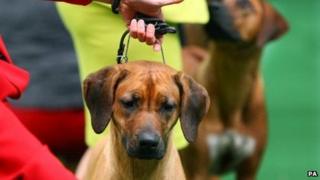 The RSPCA did not have the correct warrant to seize 44 dogs from a house in Essex, the High Court has ruled.
The charity's officers had joined a council team with a warrant to investigate alleged noise and smells at a house in Lawford.
But by seizing the dogs, the RSPCA exceeded its terms and a subsequent animal welfare prosecution collapsed.
The charity argued the warrant was sufficient, but the High Court backed a judge's decision to throw out the case.
Dismissing the charity's case Lord Justice Beatson, sitting with Mr Justice Blake, said it had been "intent on carrying out a search for purposes for which they had not been authorised".
'Facial tumour'
The judges heard magistrates granted Tendring District Council a warrant under the Environmental Protection Act (EPA) to investigate "statutory nuisance" following complaints about noise and dog faeces at the Harwich Road home of Deborah Fuller, 55, and Phil Sheldrake, 59.
RSPCA officers joined the council and police and seized 42 Ridgebacks and two Hamiltonstovare.
The animal charity alleged many of the dogs were emaciated and one had a facial tumour.
Ms Fuller and Mr Sheldrake pleaded not guilty to 16 charges of causing unnecessary suffering and failing to meet the dogs' needs at Colchester Magistrates Court in June.
'Principle of legality'
Their subsequent trial was halted when district judge Kenneth Sheraton said evidence gained during the search was inadmissible.
He said the RSPCA should have got a separate warrant under the Animal Welfare Act.
The RSPCA applied for a judicial review of that decision at the High Court and argued that even though the "dominant purpose" of the EPA warrant was to investigate noise and smell nuisance, there was still scope for seizing the dogs on welfare grounds.
But earlier, Lord Justice Beatson said: "It is incumbent on officers of the state, and those who assist them, to take care that the principle of legality that has protected us well over many centuries is observed".
The dogs are still being looked after by the RSPCA and a spokeswoman said: "The future care of the dogs will be considered when an ongoing case involving the defendant is back at court on 30 March."