Boxted shooting deaths: Harold and Wendy Ambrose were 'in love'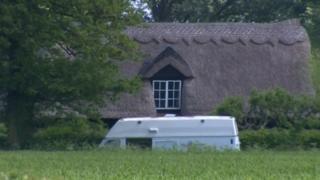 A man with dementia who shot his wife, dialled 999 and told the call handler they were in love, before turning the gun on himself, an inquest has heard.
Harold and Wendy Ambrose were found dead at their home in Boxted, last May.
An inquest in Chelmsford heard Mrs Ambrose, 77, was unlawfully killed while Mr Ambrose, 82, killed himself.
After the hearing, Essex Police called for a change in the law which would force GPs to notify them of health concerns relating to gun owners.
The inquest heard from a 999 call operator who spoke to Mr Ambrose shortly before 07:00 BST, on the day of his death.
He described how Mr Ambrose had said he and his wife "were in love, enjoyed life but could only see death and horrible things in front of them".
When he made the call, Mr Ambrose had already shot and killed his wife, who had been diagnosed with cancer, the inquest heard.
Coroner Eleanor McGann said because of the nature of that 999 call, it was clear Mr Ambrose intended to shoot his wife and also himself.
After the hearing, Ch Insp Glen Pavelin, who oversees firearms licensing in Essex, said he wanted GP surgeries to be legally obliged to tell police if the health of gun owners changed in a way that could affect their fitness to hold a licence.
Doctors knew which patients held firearms, he said, because they were written to by police, asking for any concerns they might have, at the licence application stage.