Harwich to Felixstowe foot ferry saved from closure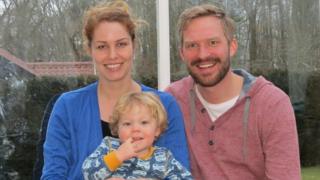 A foot ferry that has linked Essex and Suffolk for more than 100 years has been saved.
Austrian Christian Zemann has taken over the Harwich Harbour ferry, which has run since 1912, with his wife Lucy.
It was feared the service could fold when operator Alan Sage announced he was retiring and selling the boat.
Mrs Zemann said: "Coming from a landlocked country, people find it funny Christian is the new captain and owner of this estuary ferry."
The boat carries pedestrians and cyclists between Harwich, Felixstowe and Shotley.
Mr and Mrs Zemann, who are both 33 and live in Kettleburgh in Suffolk with their two-year-old son, will take over the service at Easter.
They said they saw that it was for sale on the news two weeks ago.
Mrs Zemann said: "People are pleased that it is carrying on - most people have heard of it and didn't know it was closing.
"Everyone says how amazing it is and how great it is that we are going for it."
The new owners moved to England last year to be closer to Mrs Zemann's family, after living in Austria and Germany.
Although Mr Zemann was brought up miles from the sea, he lived close to the River Danube where he used to sail his father's boats and gained his captain's licence.
Mrs Zemann said: "Having always worked with boats and in water sports this was an ideal business for us to take over."
They plan to run the service alongside their new Austrian wine importing business.
The ferry operates from Easter until the end of September and carries about 14,000 passengers on average each season.