Southend v Cambridge: Simon Dobbin remains in critical condition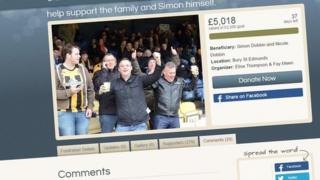 A football fan remains in a critical condition after he and his friends were attacked following a match.
Essex Police used CS spray to break up a fight involving about 15 people in Southend after Southend and Cambridge United played on Saturday.
Simon Dobbin, 41, from Suffolk, suffered a serious head injury.
Dave Doggett, Cambridge chairman, said: "The thoughts and prayers of everyone at Cambridge United are with Simon and his family and friends."
The club said Mr Dobbin had been watching rugby in a Southend pub prior to the fight.
Mr Dobbin, of Mildenhall, then walked with with fellow fans to Prittlewell train station when they were attacked near the platform, the club said.
A fundraising appeal has been set up to raise money to help with accommodation and travel costs for Mr Dobbin's family.
Daniel Herrera, who played football with Mr Dobbin at Mildenhall, has organised a charity match on Sunday in Mr Dobbin's honour.
He said: "This is a case of the wrong place and the wrong time for a truly wonderful man.
"Simon is a wonderful person. He's a gentle giant. I hope this game raises money for Simon's road to recovery. I hope it also shows the good side of the game."
One man - a 47-year-old from Cambridge - has been cautioned for criminal damage while a 33-year-old Southend man and a 23-year-old man from Westcliff were arrested on suspicious of grievous bodily harm and later released on police bail.
The attack on Mr Dobbin has also been condemned on football hooligan forums where Mr Dobbin is described as a "shirter", which means a football supporter wearing his club's shirt and not involved in violence.
One forum suggested hooligans from Southend and Cambridge had encountered each other earlier in the day but nothing happened. One forum member said: "We wear our uniform for a reason, you don't attack shirters."