Essex street lights protests reach Westminster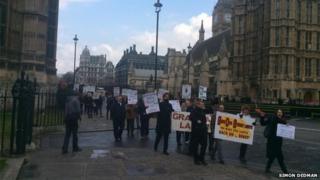 Campaigners opposed to street lights in Essex being turned off during part of the night to save money have marched on Westminster.
About 50 protesters from the county marched with placards outside the Houses of Parliament.
About 70% of lights have been turned off between midnight and 05:00 since March 2013 to save £1m annually.
The protest comes a day after Essex County Council said it would be keeping lights on for an hour longer at night.
The county council said from 30 March lights would be turned off between 01:00 and 05:00 six days a week, costing the authority an extra £300,000 a year.
Rodney Bass, Conservative cabinet member for highways and transportation, said the decision was "not a change of policy", but a "fine-tuning" of the system.
The demonstrators claim the move by the county council is not enough and want the lights turned back on throughout the night.