Fundraising football match for injured Cambridge United fan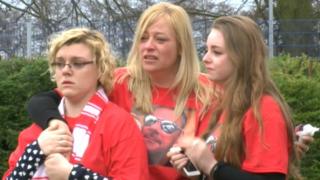 A charity football match has been held in aid of a Cambridge United fan, left in a critical condition, after being attacked.
Simon Dobbin, 41, of Mildenhall, Suffolk, was attacked after Southend and Cambridge United played on Saturday 21 March, in Essex.
Mr Dobbin suffered a serious head injury and remains in a critical condition in hospital.
Mildenhall football club played Beck Row, raising more that £1,500.
Hundreds turned up at the match, including Mr Dobbin's wife Nicole and his niece Elise Thompson, who set up a fundraising appeal website to raise money to help pay for his future care.
Ms Thompson said: "It has been absolutely amazing. It has gone up £1,000 a day, we're now at £9,100."
Another family member, Fay Meen, said: "We just feel devastated about what has happened. Simon is such a wonderful person and wonderful family man."
Ricky Duncan, Southend United academy manager - who also went to the game, said: "We're very shocked something like this has happened - that a minority of fans could do this."
The match finished 6-2 to Beck Row.
Mr Dobbin's friend Daniel Herrera organised the game at Mildenhall Town Football Club.
Simon Dobbin had been watching rugby in a Southend pub prior to the fight.
He then walked with with fellow fans to Prittlewell train station when they were attacked near the platform.
One man - a 47-year-old from Cambridge - has been cautioned for criminal damage while a 33-year-old Southend man and a 23-year-old man from Westcliff were arrested on suspicious of grievous bodily harm and later released on police bail.