Internet troll warned over 'vile' Thurrock MP abuse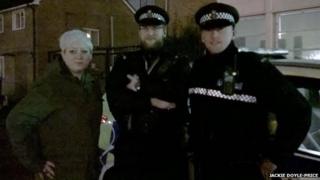 An internet troll who posted "disgusting comments" on social media about an MP has been given a harassment warning.
Jackie Doyle-Price, who is set to defend the Thurrock seat in Essex, complained to police about the threats last month.
A 24-year-old from Downham Market, Norfolk, has been told he faces arrest if he ignores the police warning.
Essex Police said it would take action against "trolling".
'Sad and inadequate'
Miss Doyle-Price, who is now standing as a Conservative candidate, was involved with a police campaign to tackle car cruising in January.
She later received a torrent of abuse on the Lakeside Cruising Facebook account in February.
The owner of the page has since apologised for some of the "quite disgusting" comments.
Ms Doyle-Price described people who post abusive messages anonymously as "sad and inadequate".
"I am grateful to the police for taking this action," she said.