Nahid Almanea Colchester murder: Saudi officials briefed on inquiry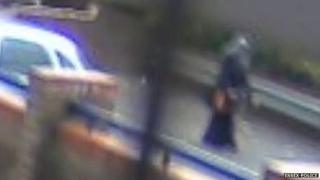 Saudi Arabian officials have visited Colchester to be briefed about the unsolved murder of a University of Essex student from the country.
Nahid Almanea, 31, was stabbed 16 times as she walked along a footpath in Colchester to the university campus, where she was studying English.
Saudi officials went to the site where the student was killed on 17 June.
They were told police had spoken to 1,000 people, taken 1,300 statements and studied hours of CCTV footage.
Det Supt Mark Hall said everyone was frustrated no-one had been charged over the murder.
He told the officials police were determined to find the killer.
They met at the Salary Brook trail where Ms Almanea died from her wounds.
She often walked along the path to the University of Essex campus with her brother, who lived with her.
But on 17 June she was alone wearing a dark robe and hijab scarf when she was attacked.
Several thousand people attended her funeral after her body was flown home.
"The investigation is ongoing with a dedicated team following a number of lines of inquiry," Mr Hall said after the briefing.
"While there's a degree of frustration, the team is focused on these lines of inquiry to find out why Nahid was killed and who is responsible."