Abandoned ducklings rescued from Essex drain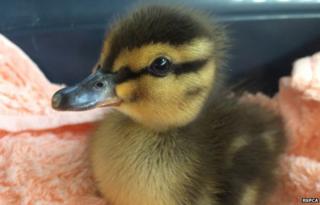 Three abandoned ducklings had to be rescued from a sewer after falling through the gaps of a drain cover.
The ducklings were reported stuck down a drain in Great Notley, Essex after trailing their mother across a road on Tuesday afternoon.
The first two were plucked to safety by firefighters but a third could be heard further down the drain.
The RSPCA said he had to be flushed out into a net - an experience which left him "startled".
How long the ducklings, who are now without a mother, were stuck down the drain is not known.
RSPCA inspector Sarah Elmy said: "We could hear them, but not see them - it was so frustrating
"They had to flush water along the drain to get the little one out - and into the waiting net.
"He was a little startled - but fine, and has now been taken to a local wildlife specialist for care."