Third of children's homes inadequate or only meet bare standards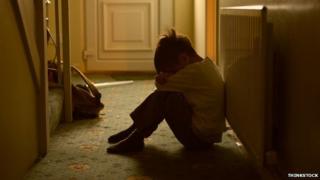 One in three children's homes in the east of England are rated either inadequate or only meet the minimum standards, it has emerged.
There are 194 children's homes in the east of England caring for about 1,550 vulnerable young people.
According to Ofsted, there has been no improvement in homes in the region in the past three years.
The Independent Children's Homes Association said the east was also home to "world class children's homes".
Extracts from Ofsted reports found homes where there was "a shortage of food", where the "central heating was not working during the winter" or where there were "serious concerns about bullying".
In one home, inspectors found staff had "no child protection or fire training".
Ofsted, since the start of April, has changed the way it inspects children's homes.
The "adequate" rating has been replaced with a new "requires improvement" rating.
However, Jonathan Stanley, chief executive of the Independent Children's Homes Association, said not only did the figures show that 66% of homes in the region were rated either "good" or "outstanding" but voiced concerns about the "accuracy" of inspections.
"Children's homes inspections receive high levels of challenge and complaint as to the accuracy of inspector methodology," he said.
But an Ofsted spokesman said: "It is entirely wrong and inaccurate to suggest that Ofsted receives a high number of challenge and complaints in relation to the accuracy of our inspections of children's homes.
"Ofsted's Annual Report and Accounts for 2013-14 showed that 97 complaints were received about social care activities. This represents 2% of the 5,989 social care inspections that were carried out under the social care remit."
'I've had enough'
One former care home manager from Norfolk, who asked to remain anonymous, said after 15 years she could no longer bear to stay in an industry she once loved.
"It's impossible to get enough staff," she said, "they are under-paid, over-worked and there is a lack of morale.
"I got into this because I wanted to make a difference and help children but after 15 years it's all about money and I've had enough.
"It's all about filling the rooms at all costs - heads on beds."
Children's homes in the eastern region (2014)
County
Number of homes
Rated 'adequate'
Rated 'inadequate'
Bedford Borough
12
5
1 - plus two currently being monitored
Buckinghamshire
10
1
0
Cambridgeshire
21
3
1
Central Bedfordshire
9
3
1
Essex
29
3
3
Hertfordshire
13
4
2
Luton
4
2
0
Milton Keynes
6
0
0
Norfolk
40
7
1
Northamptonshire
21
5
4
Peterborough
9
2
0
Suffolk
20
4
2
Mr Stanley challenged such claims, saying children's homes were often running at losses.
"Local authorities do not appreciate the need for intensive care needed and see a figure only in terms of expensive costs," he said.
"They react to this by driving down fees year on year. Providers are remaining operating through commitment to children and suffering terrible financial losses."
The Who Cares Trust, a children's charity, says all homes should be meeting the "good" standard as a minimum.