Mid Essex NHS trust slammed over emergency unit unregistered staff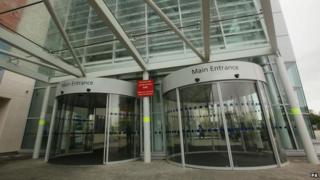 A hospital has been criticised by an NHS watchdog over using unqualified nursing staff in an emergency unit.
Inspectors from the Care Quality Commission made the discovery during a visit to Mid Essex Hospital Services NHS Trust in February.
As a result Broomfield and Braintree Community hospitals' performance was rated as requiring improvement.
The trust said it had accepted an extra requirement in its licence that only registered nurses would be used.
Chief Inspector of Hospitals, Professor Sir Mike Richards, said his team had examined core services at the trust.
These were urgent and emergency services, specialist burns and plastic services, medical care, surgery, critical care, maternity and gynaecology, services for children and young people, end of life care and outpatients and diagnostic imaging.
"We found Mid Essex Hospital Services NHS Trust required improvement overall," he said.
New recruit training
"While there were some areas of good practice, we were seriously concerned at what we found during our inspections and this is why we took immediate and urgent action."
Inspectors decided safety, patient care and leadership also needed improvement.
Dr Ronan Fenton, Chief Medical Officer, said: "We have taken immediate action to ensure emergency assessment unit care is delivered by suitably qualified staff.
"All new nursing staff are undertaking compulsory drug administration assessments.
"A dedicated senior nurse will provide leadership to improve care for those at the end of life in our hospitals.
"With the recent recruitment of new consultant and nursing staff we will see a reduction in the waiting lists for follow-up outpatient appointments.
"During 2015 we will be recruiting an additional 20 midwives and over 50 trained nursing and health care assistants."