Man held for murder in Angela Millington Foulness Island death probe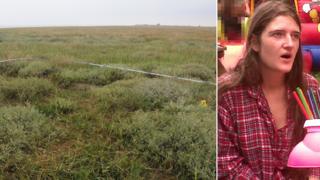 A 66-year-old man has been arrested on suspicion of murder after the washed-up bones of a homeless woman were found by ramblers.
Essex Police started a murder inquiry into the death of Angela Millington, 33, from Southend last June.
Her remains were found on Foulness Island in June by a group of ramblers and were identified using DNA tests.
Police said the man was arrested after attending Southend Police Station earlier.
There had been no definitive sighting of Ms Millington, who had no fixed address, since November 2013 when she visited a housing officer and withdrew money from her bank account.
A 51-year-old man previously arrested on suspicion of murder was released and faces no further action.