Attacked football fan Simon Dobbin 'showing recovery signs'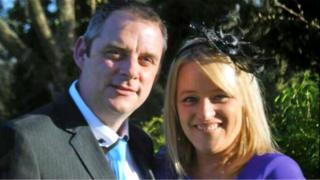 A football fan remains in a coma a month after he was attacked by a gang on match day, but his wife says there are signs he is recovering.
Cambridge United fan Simon Dobbin, 42, of Mildenhall, Suffolk, was set upon near a pub in Southend, Essex.
His wife Nicole said he had opened his eyes and they followed her when she visited him at Addenbrooke's Hospital, Cambridge.
Four men are on bail after being arrested over the attack.
Mr Dobbin was on the way home from the Southend United v Cambridge United match on 21 March when he was attacked outside The Railway pub in East Street.
'I'll be there'
His wife and members of his family told BBC Look East his recovery was progressing in small steps, but to them they were milestones.
He was put on a ventilator a few hours each day but allowed to breathe normally so his chest muscles would strengthen, his wife said.
"We've heard stories about people given no hope yet go on to live normal lives," she said.
"I will be by his side every step of the way and whatever condition he comes home in, I will be there.
"It is heartbreaking around the time when he would normally come home from work and at night."
His daughter Emily is dividing her time between GCSE studies and visits to Addenbrooke's, more than 20 miles (32km) from the family home.
She said she missed his laughter in the house.
"I feel guilty studying because I think I should be with him," she said.
"I also get very emotional when I see he cannot do things for himself and relies on the nurses."
A fundraising campaign led by niece Elise Thompson has raised more than £10,000 which she said would be used to adapt the home and pay for equipment he might need when he leaves hospital.