Southend United's grieving David Worrall scores winner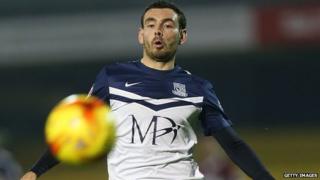 A footballer has scored the winning goal to keep his team's promotion hopes alive just weeks after the death of his son.
The goal scored by Southend United winger David Worrall was from his first ever free kick for the club.
The 73rd minute winner comes just weeks after the death of his prematurely-born son.
Worrall said: "It was massive. It has been a tough month. It was good to be back out there."
He dedicated the goal - scored against his former club Bury - to his son, whose grave he visited on the morning before Tuesday's match.
The goal moves the Blues level on points with third placed Wycombe.